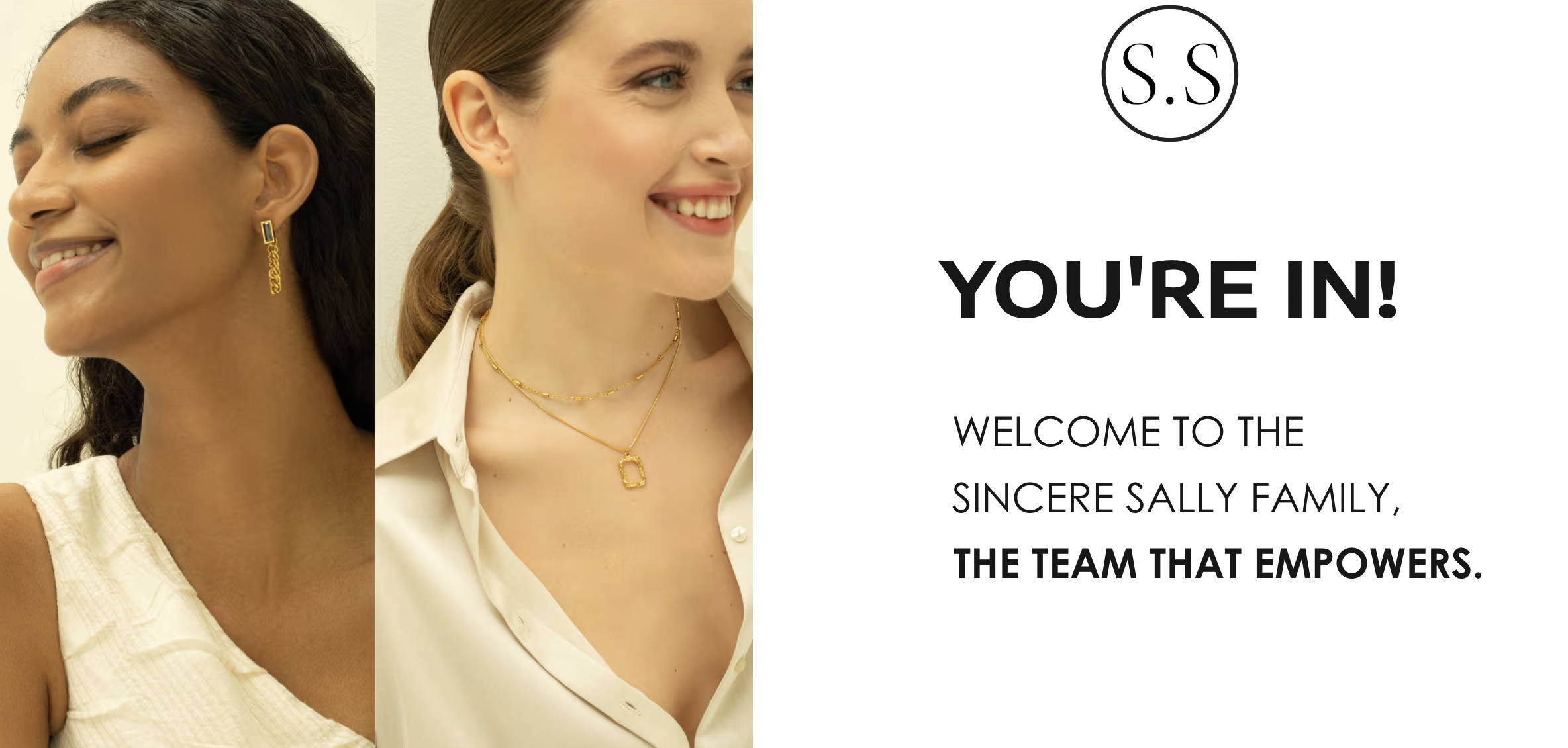 We take pride in offering an exceptionally rewarding ambassador program within the realm of jewelry, known for its remarkable member benefits. Apart from social media exposure, we provide a range of appealing perks, including:
· 50% OFF DISCOUNT SITE-WIDE
Our highest discount offered is typically 20%, but we are offering new affiliates 50% off site-wide this month as a joining incentive!
FOR 50% OFF - CODE: SALLYTEAM
· 25% OFF FOR FRIENDS & FOLLOWERS
After your initial purchase, we'll email you with a special link to generate your personalized promotion code and your ambassador dashboard through Goaffpro.com. Any purchase made using your code or referral link will directly contribute to your commissions!
· 25% COMMISSION PER SALE
Any sales you make through your promotion code, you
will be paid 25% commission directly to your PayPal.

STEP 1. SHOP AT YOUR OWN LEISURE
Make an initial purchase using your exclusive code below. We require this to ensure your authenticity in our program. Note that the code below is a one-time use code. Your 30% off lifetime discount code will be provided following your initial purchase.
FOR 50% OFF - CODE: SALLYTEAM
AMBASSADOR FAVOURITES
14K GOLD VERMEIL & S925 STERLING SILVER
SINCERE SALLY'S SIGNATURE NAP EARRINGS
DESIGNED TO BE WORN 24/7, EVEN WHEN YOU SLEEP!

STEP 2. REGISTER YOUR ACCOUNT
Once our team recieves notification of your purchase, you will automatically receive an e-mail with a link to register your ambassador dashboard via Goaffpro. Here you will create your personalized discount code and ambassador link to promote to your friends & family.
Note: Make sure you place your order under the same email than you registered with so that you automatically receive this e-mail. If you used an alternate email, simply email us at support@sinceresally.com to confirm your purchase and we will send through your sign up link!

STEP 3. START EARNING REWARDS!
You can choose to begin promoting as soon as you register your ambassador dashboard or you are welcome to wait until you receive your pieces. Once your order is placed, you'll receive an email with additional information and tips for promotion to make the most out of our ambassadorship program!
Congratulations on becoming part of the Sincere Sally family! If you have any questions at all, please reach out to our amazing team at support@sinceresally.com and we will quickly assist.